22B Vauxhall Cresta
6/20/99
Information prepared by Ethan Enzer as it appeared on George, the Virtual Collector's pages [with modification]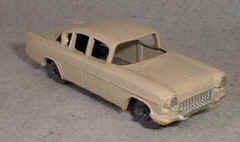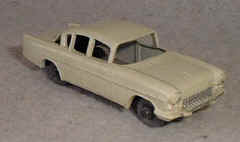 top, 22B2 [pinkish] & right, 22B4 [cream] Crestas [images from Frank's childhood collection]
8/6/99
[Ethan has been finding a surprisingly large number of slight shade and even paint-finish variations (some distinctly matte) in his cream Cresta quest.]
Introduced in mid-1958, the 22b Vauxhall Cresta has long been a collector favorite on both sides of the Atlantic. This model closely followed the [then] updated body design for the British E-type Cresta, & was based in the PA Cresta, which was pacing the British motor industry as a styling and design clone of American automakers. It is vaguely reminiscent of the rounded edge design of Detroit's 4-door Ford Fairlane, Dodge Seneca, Plymouth sedans, and a lot of other neat cars that you can see on TV re-runs of 1950's television shows.
5 Crestas from John Dean's collection
8/6/99
Depending on who you talk to, there can be up to 30 variations documented. Although not listed in Charlie Mack's book, it has been confirmed with metal wheels, reported by pre-eminent Matchbox collector and dealer Hardy Ristau in 1998. If any collector has seen it (beware of fakes) and can provide some history and photos of this piece, I'd like to add it to the page.
The model first emerged in a pale pink color, without windows, and evolved to a creamish off-white [with intermediate shades between the pale pink & cream] before the addition of a window insert.
The ultra-rare two-tone Cresta on the left and shade-variations of the cream model from Charlie Mack's Museum
The changeover from crimped to rounded axles occurred in this period, and this sets the stage for the appearance of one of the rarest of all the regular wheels.
In 1960, in an attempt to add to the attractiveness of its models, Lesney began to experiment with two-tone color schemes, painting the models with a base color overall, then the roof area was masked, & a second color added for the side panels on the lower third of the finished casting. Trim was added to the grille and the taillights in varying degrees. The first two-tones had turquoise side panels and a cream body, & is recognized as one of the rarest of all the regular wheel models, with fewer than one dozen known to exist. It is not possible to put a price on this piece, but in one of those "right place, right time" stories, [Ethan] was able to locate one at a train show in 1994. So, collectors . . . stay alert!
The turquoise/cream model was quickly followed by turquoise/bronze and then pink/gray. The pink/gray is easier to find than the other two-tones, but is by far not considered a common second series variation. [image from Frank's childhood collection]
The pink/gray was the only two-tone model found with both gray and silver plastic wheels. During the last 3 years of its seven year run the model was given a single-color metallic flake paint scheme: light gold, dark gold, & finally copper. There are intermediate shades ranging to a golden bronze or even darker, & two gold colors ranging from light gold to a brilliant honey-orange gold. The honey-orange gold in the States is comparatively scarce. If anyone has had success locating a gold Cresta (any shade) with gpw we'd be interested in hearing from you. The single-color model in bronze is the only time that the model appeared with black wheels, & as Lesney's production increased in the early to mid 1960's, there were comparatively large numbers of the black wheel variant produced, especially with the fine black wheels (36 treads).

NOTE: Charlie Mack's book details 22b-7 as gunmetal gray/turquoise, which is not a factory-produced variation but a color fade. Beware "cooking" your cars on a window sill. the very piece from Charlie's collection at right.
Two-tones from Charlie Mack's Museum: apart from the wheel variations (not distinguishable in image) the obvious difference is the shade of bronze


David Henson in MICA (1994, Vol.10, No.1, page 22) reported this all-gray "two-tone"
Noticeable gold and bronze paint shade variations from Charlie's collection