45A Vauxhall Victor
6/20/99

3/22/00
© 1992, 1999 Frank Sygusch <toysmonc42@gmx.de>, all rights reserved, reprinted by permission [with modification as it appeared on George, the Virtual Collector's pages & by Frank C]. Frank Sygusch's PhotoPoint pages at 1 & 2

[3/22/00 PhotoPoint has suddenly disappeared recently]

1/13/02
The 45A Vauxhall Victor was originally cast without a brace (A-type, see below) under the bonnet (hood), resulting in production problems with the bonnet collapsing as the base was installed. This was remedied by adding a cross brace the casting under the bonnet (B-type, see below). The first models were red & apparently all red models were A-type casting. There were additionally some A-type castings in yellow, which color change was made in close proximity to the casting change. Both colors in the A-type casting are rare.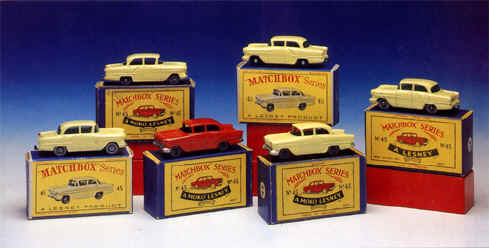 Postcard of (some of) Frank Sygusch's 45A Vauxhall Victor collection , Giessen, Germany © 1992, 1999, 2000 Frank Sygusch
The Vauxhall Victor was the first No. 45, issued in spring 1958 [Oldies but Goodies 45 Vauxhall Victor, by Philip Bowdidge, Matchbox U.S.A., April 1997, page 16], & is one of the rare models [Matchbox Magazine Index, Christian Falkensteiner <ch.falkensteiner@aon.at> (1. Series 1-75; 2. Major Packs; 3. Models of Yesteryear; 4. Dinky Collection; 5) Early Lesney Toys).
Two diecast toys collectors & Matchbox-experts from England first described this model & variations, Geoffrey Leake in 1979 [A Concise Catalogue of 75 Series "Matchbox" toys by Lesney, 1979 (1st edition), now 3rd edition, Worcester 1992 ISBN 0 9507616 1 3] & and Robert W. Newson, in 1985 [MB-45A Vauxhall Victor, MICA, Vol.1, No.5, 1985, page 195-199]. Robert Newson mentioned 3 of the very rare red ones in existence which "have a casting difference from the normal yellow models, which helps confirm their trial-run status" (A-type), see below.
Mike Stannard's illustration of the casting variations of the 45A without the "dashboard" cross brace (A-type) & with the brace (B-type) [image revised from original publication to position right half under left half of image to fit web page layout]
In 1985 Michael Stannard's catalogue ["Matchbox" 1-75 Series 1953–69 Collectors Catalogue, Spalding 1985 ISBN 0 9510367 O X] was published & explained well the visible differences of the casting-variations with drawings. Even though we all know that no list & handbook is perfect [& hopefully one will always find omissions or inaccuracies so that there are new "finds" to be made], both Geoffrey Leake's Concise Catalogue (which includes Superfast models as well) & Michael Stannard's Catalogue (which focused on Regular wheels models), with semi-tabulated layout & detailed information, were established, adopted & used by collectors around the world because of the useful & extensive cross referencing.
In 1989, Nigel Cooper reported still "fewer than ten red Vauxhalls were known to exist", & concluded its rare color in combination with different casting (A-type) to all later yellow issued models classifies the model as a very rare one [The Matchbox Regular Range / Pocket Money Toys 1953 to 1969, Collecting Matchbox Diecast Toys. The first forty years, Chester 1989, page 66–7].
These two criteria (color & casting) in combination explain why the model was so rare & distinguishable from the later yellow ones (but see below) or other models of the Regular wheel range. No.46A the Morris Minor for example, exists in a rare tan color, dark green, & blue. But unlike the 45A Vauxhall the Morris minor in tan color has the same (first) casting as the dark green one: thus the color is the only difference for the 46A.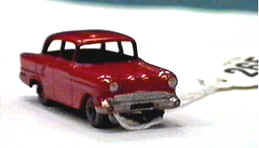 45A in red [photo by Ethan Enzer]
Perhaps because of the two categories/ criteria: "rare color/ preproduction color" in combination with "trial run status casting" (which means at least first type casting), the 45A Vauxhall Victor in red always realized high prices in comparison to other models & focused attention to collectors, dealers & managers of diecast toy business. Reports on front cover pages of diecast toy magazines are always happy to announce another record of what was paid for a red Vauxhall (around 1988-92 about 700 English pounds which was about 2000 German marks at that time). [Model Collector (London), August 1992].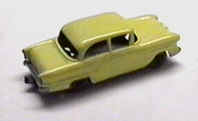 45A yellow in first casting [photo by Ethan Enzer]
In 1995 Frank Sygusch reported the existence of several yellow A45 Vauxhall Victors with the first type casting at an European Matchbox convention in England. Collectors & dealers as well became a little bit confused about it, & some were very surprised. Now we all know that the red color issue is no longer the ultimate rare piece as it was known for as having both a color & casting difference, because at least some of the very first yellow Vauxhalls do have the trial run casting too, & so Philip Bowdidge probably intended to rewrite an article on the 45A in 1997 April issue of the Matchbox U.S.A. magazine & remarked in a short sentence, that "a short run of the first issued models were painted red, making this version one of the rarest Matchbox models". [Oldies but Goodies 45 Vauxhall Victor, Matchbox U.S.A., April 1997, page 16]
The yellow Vauxhall with the first casting is as rare or rarer than the rare red 45A. Frank Sygusch has seen about 15 examples of the red one in collections but less yellow ones. The discovered variation of a yellow one with first casting changed the paradigm of looking at the 45A as well as other regular wheel models.
see also:
Lesney's Matchbox Toys. Regular Wheel Years, 1947 – 1969 with Price Guide, Charlie Mack, West Chester (U.S.A.), 1992 ISBN 0-88740-434-0
N.A.M.C. Matchbox" Comprehensive Catalog, 2nd edition 1971 (Westboro, U.S.A.)
Matchbox U.S.A., August 1982, p. 17